Attention Readers: This calendar is hot.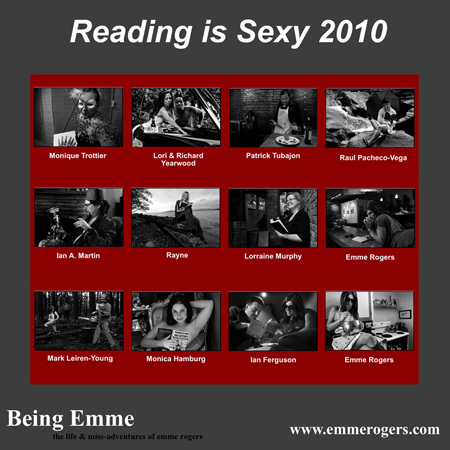 The 2010 Reading Is Sexy Calendar goes on sale this week to promote literacy and to raise funds to help kids and adults with dyslexia become literate.
I sat down (virtually) with Emme Rogers to talk about the calendar.
Who does the calendar supports?
The Canadian Branch of The International Dyslexia Association
http://www.interdys.org/
http://www.idaontario.com/
Our goal is to promote literacy and raise funds to support those with dyslexia.
What was the impetus behind the idea?
Back in the spring, Ian Martin (http://www.twitter.com/IanAMartin) was starting up his publishing house, Atomic Fez Publishing, and was trying to goad me into saying "Reading Is Sexy" as often as possible on twitter. This sparked the idea for doing a "Reading Is Sexy" calendar promoting literacy.
Initially the calendar was supposed to be shot "calendar girl" style, like the one Bryne Pen did on Salt Spring to raise funds and awareness for The Land Conservancy. Alas not all our models understood what I meant by that, so it will likely be our theme for next year.
We chose the International Association of Dyslexia as our charity because they interact with Emme online (@onbida) and Emme is dyslexic. That said, she is one of the lucky kids who had access to help, so she has never treated her dyslexia as a crutch, but rather as her secret superpower. It is why she looks at the world in a different way, is not limited to typical rules dictating how things work, and has approached life with perseverance, hard work and problem solving.
Who is Emme?
Emme is the girl next door. You know the one. She was the Tomboy who always out climbed the boys to reach the most precarious limits of the tree in the yard. The one who you just gave the ball or the puck to on the soccer field or hockey rink for fear of her side tackle or crosscheck. The one who loved making mud pies, but wouldn't be caught dead at a tea party. You know the one. The one whose Mom couldn't watch what she was up to for fear that she'd have a heart attack. That girl. The one whose friends you didn't mess with, not because she was manipulative, but because she hated injustices and wasn't afraid to say so. Just ask the boy next door. Maybe he'll pull out the photo of the black eye he was sporting the day he was a ring bearer.
We'll Emme's all grown up now and she's no longer "Leo the Late Bloomer." A homosexual drama teacher has taught her how to put on makeup. Somewhere along the lines she lost her fear that her bum is too big and she wears fitted clothes now. And, if wonders will ever cease, she actually likes to put on a party dress, minus the runners and hockey jacket.
So in essence, Emme represents that secret hidden voice in many of us women—the things that go through the heads of our mothers, girlfriends and ourselves—the only difference is that she says these things aloud, and rather then be embarrassed about these thoughts or insecurities she screams them aloud for all the world to hear.
And yes, she's a total character and given her tomboy past finds it totally hilarious that she is now seen as Vancouver's / Canada's gal-about-town and go to girl on all that is hot and sexy in this lovely world of ours.
Who's in the calendar?
Photographers
If you'd like to support the Canadian Branch of the International Dyslexia Association, please buy the calendar.
And if you'd like your calendar signed by the men and women of "Reading Is Sexy", please come out to the Launch Party and Literary Celebration on Thursday.
Local: Gudrun Wine & Cheese Bistro (150-3500 Moncton Street, Steveston, BC)
Date: Thursday December 3, 2009
Time: 7 pm until late
Stop by for author readings, calendar signings by the models, and the auctioning of some of Robert Shaer's photos from the shoot. Plus Gudrun goodies, wine and beer will be on sale.
Oh, and have a closer look at Miss January.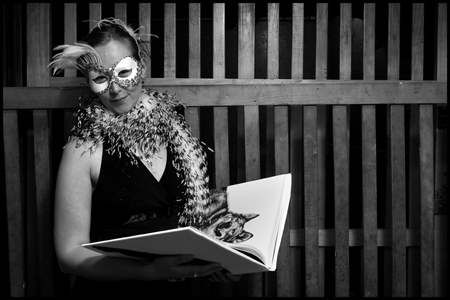 I'm reading Andrew Zuckerman's photography book, Creature.
See Emme's behind-the-scenes photos.